Details
---
Swivel seat with waterfall front in high quality woolly polyester fabric*. Chair features a specially designed lumbar support made of high density PU foam. All chairs have a 5-legged base made from durable polymer with casters or floor glides to choose from. Color available in blue and grey or other color**. The chair is built for usage of individuals up to 150 kgs or 330 pound. These chairs are ideal for single task situations.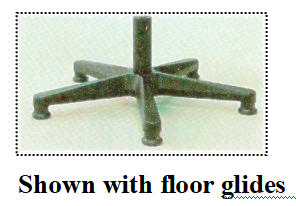 *We can supply fire retardant fabric in different grades at extra charge.
**Color chart will be sent upon request.

Model

Seat

(WxD)

Seat Height

(Adjustable)

Back

(WxH)

Pneumatic

Lift

Upholstery

Foam

Loadability

(container)

ECH-400

420x390mm

(16-1/2"x15-3/8")

410~490mm

(16-1/8"x19-1/4")

380x220mm

(15"x8-5/8")

No

(Manual)

Woolly

Polyester

Dense

cell

Polyure-thane

720/20'

1530/40'

ECH-400N

420x390mm

(16-1/2"x15-3/8")

420~525mm

(16-1/2"x20-3/4")

380x220mm

(15"x8-5/8")

Yes

720/20'

1530/40'

ECH-600N

420x380mm

(16-1/2"x15")

435~540mm

(17-1/8"x21-1/4")

390x250mm

(15-3/8"x10")

670/20'

1365/40'

ECH-800A

420x390mm

(16-1/2"x15-3/8")

420~525mm

(16-1/2"x20-3/4")

380x220mm

(15"x8-5/8")

720/20'

1530/40'

ECH-900N

460x420mm

(18-1/8"x16-1/2")

450~555mm

(17-3/4"x21-7/8")

385x360mm

(15-1/8"x

14-11/16")

350/20'

700/40'

N.B. Extra seat height available upon request
Larger seat also available at extra charge